Sell Diamonds Online
If you are not interested in any of the local diamonds buyers listed on our site, there is another option you have when it comes to earning cash for diamonds. Selling diamonds online has become another great option in the recent years as more businesses and industries are using the Internet to attract more customers. There are a variety of online diamonds buyers looking to purchase your items and two of the ones we would recommend and our reviews are in the table below.
Sell Diamond to Online Diamond Buyers
Company
Insurance
Years in
Business
Approx.
Payout
Verified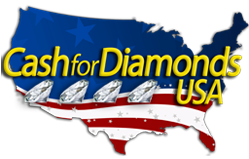 Cash for Diamonds USA
Years in Business:
12 Years


WP Diamonds
Years in Business:
2 years
---
How To Sell Diamonds Online
The process of selling diamonds online is actually very simple so if this is the first time for you, there is nothing to worry about. We have outlined the three steps below that most all online diamonds buyers' processes consist of. Some of the advantages that you may find from online diamonds buyers are; a likely higher payout, no losing money during negotiating, and convenience, but this comes at the price of generally having to wait 3-5 days to receive your money.
1. Request A Shipping Label
You won't have to pay to ship your diamonds to the buyer as the first step in the process is either having a shipping label mailed to your home, or printing it on the computer. There may also be some forms that you will need to include in the package with your jewelry, be sure to check what the buyer you are using requires.
2. Ship Your Diamonds
You can bring the package down to the post office, or just wait for the postman to swing by your house and hand it to him. Depending on the buyer you chose, your diamonds will be insured for a certain dollar amount so you can be sure you will be reimbursed if something were to go wrong during the shipping process. From here, there is not much left for you to do but sit back and wait.
3. Choose Payment Method
Once the diamonds buyer receives your package, they will weight the diamonds and assess the various pieces of jewelry that you have sent in. Shortly after they assess the diamonds, you will be contacted with the offer and can choose your type of payment method depending on what the buyer offers. If you are unsatisfied with their offer, request to have your diamonds returned and they will send it back at no charge to you.
This is how simple the process of selling diamonds online is if you are not having any luck with the local diamonds buyers.
Selling Diamonds (Short) in Forex Markets
Do you think the price of diamonds is high right now but don't have any to sell? Or maybe you've sold yours, but are looking for a way to take a financial position against the price of gold? Diamonds stocks and ETF's are an option for this, but the most popular and most efficient way to do this is through leverage with a Forex trading account.
Trading Forex isn't easy and requires some education on how leverage works and exactly how to trade. However, once you've mastered it, it's a great way to make money off currency moves. While there are a multitude of Forex trading platforms available online, we recommend Plus500. It came recommended from a couple form professional Forex traders, and we've used the interface ourselves to execute some trades. Make sure to view their demos and fully understand how to trade before you execute live trades, but once you're ready, this is a great platform to do it on.
You can sign up for Plus500* today to check out the interface and what the trading platform looks like. Leveraged trading carries risk, but it allows you to make a lot more money, much more quickly than selling physical commodities.
* We are financially compensated for referrals to this website who become active traders. Your capital is at risk when you make Forex trades and investments. Plus500 is only authorized to provide CFDs and not Binary Options. Plus500UK Ltd is authorised and regulated by the Financial Conduct Authority (FRN 509909).